BACK TO NEWS
Dobrograd at MOSCOW URBAN FORUM 2021
02.07.2021
Vladimir Sedov, Dobrograd founder, and Oleg Fomin, the project's General Director, spoke at MOSCOW URBAN FORUM on July 1 and 2.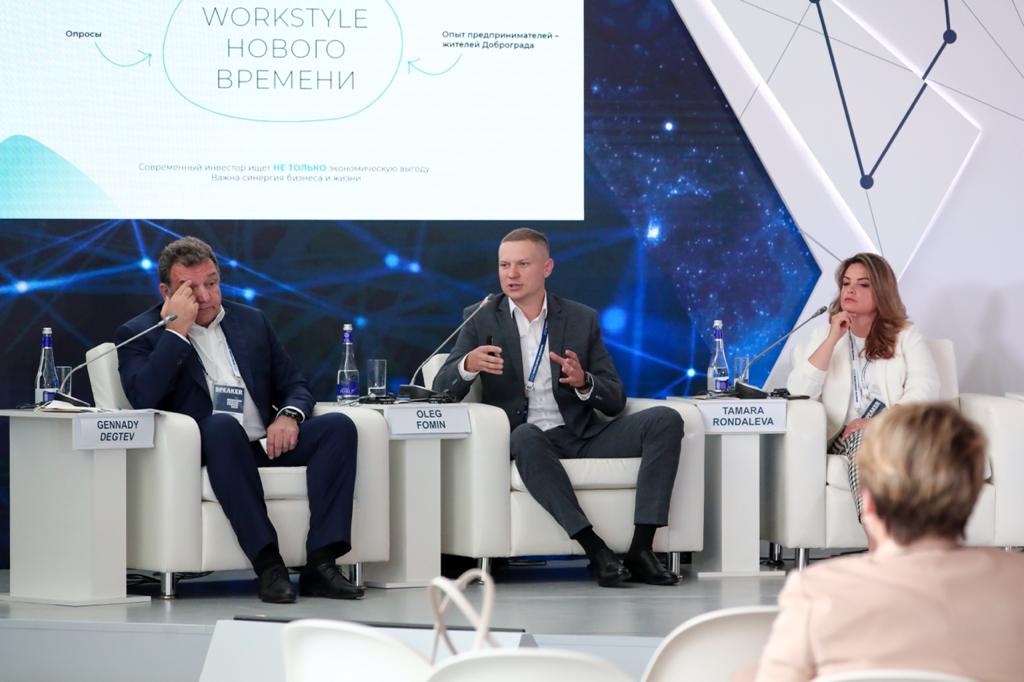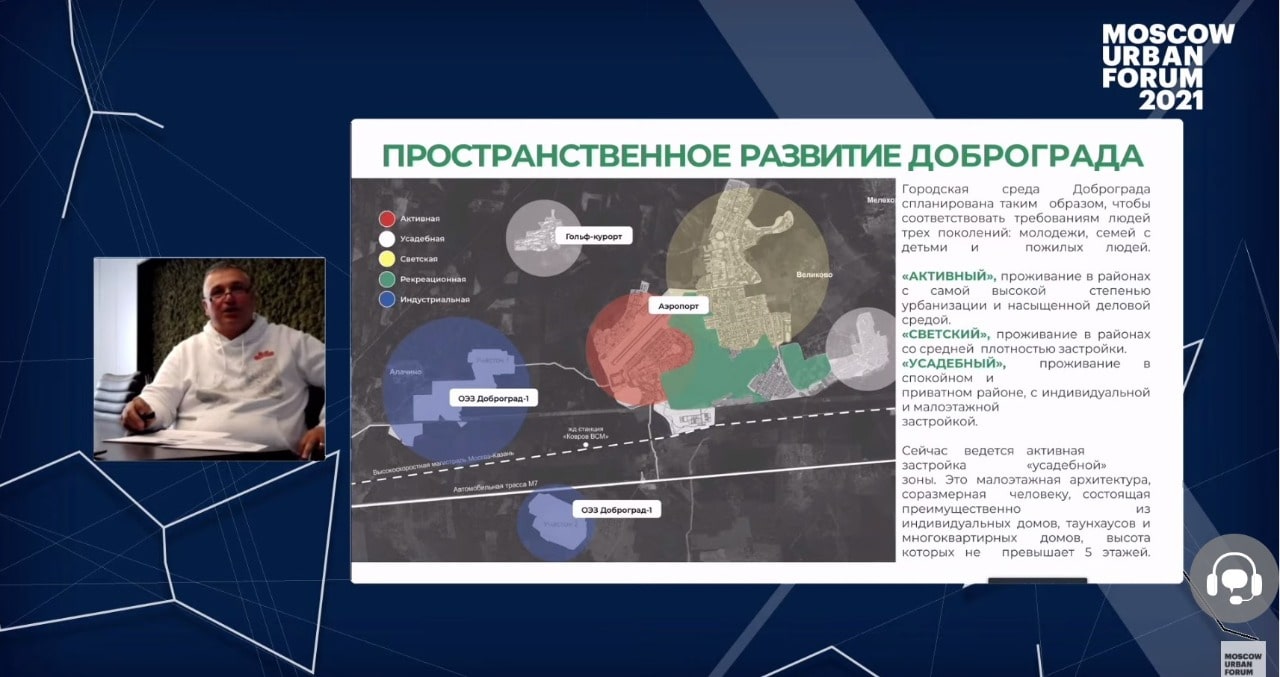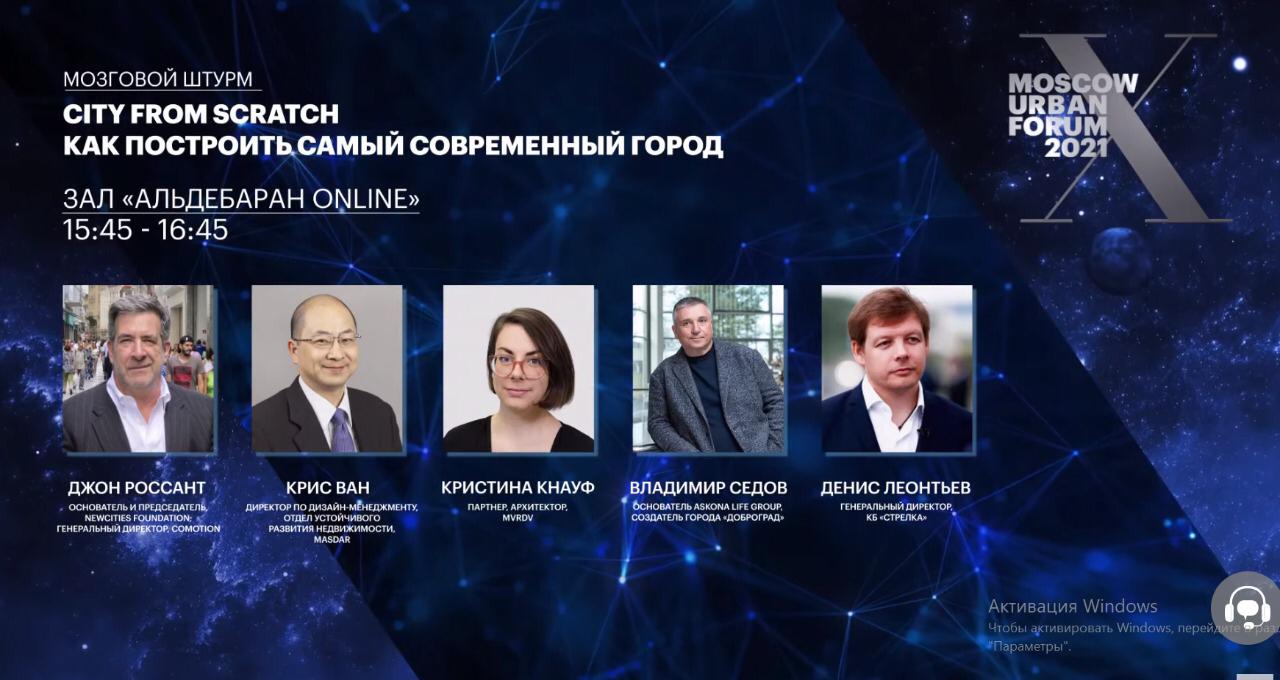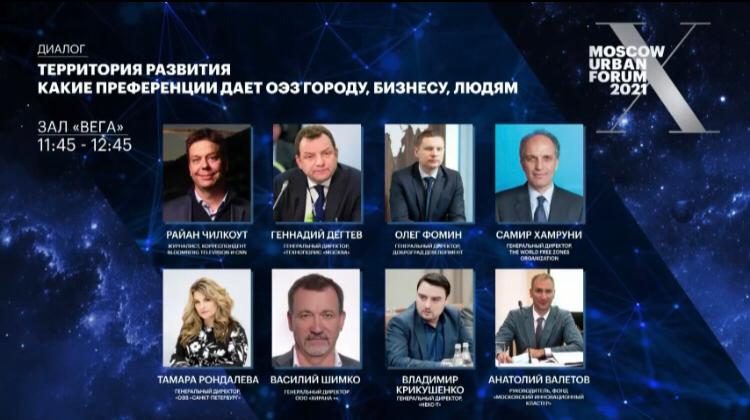 This is a major international congress, taking place annually since 2011, with the focus on the challenges facing global mega metropolises.
Transformation and development of urban centers in the pandemic, creation of infrastructure with utilization of modern technologies, experience in implementation of special economic zones, the most interesting cases of unique projects, Dobrograd being among those, – these were the main topics discussed by the speakers.
In online environments, Vladimir Sedov demonstrated how a new place to live can be built from square one, using the example of Dobrograd.
The idea of three generations of one family living close to each other is at the core of the project. The speed of creation of new products and technologies and the changes in them, increasing demands for the quality of life, differences in the needs of different generations of the family, the necessity of digitalization and modernization of familiar urban systems (housing and communal services, local self-government, education, healthcare, etc.) have become challenges that the founders of Dobrograd are successfully solving.
Dobrograd is one of the first cities in Russia, which is being built not "around the pipe" (meaning not around production), but for life. In 2012, we began with creating infrastructure for a comfortable life and only 8 years later we started production development, again choosing a non-classical scenario.
The format of the Dobrograd-1 private special economic zone allows the Managing Company to cooperate with those investors who share the philosophy of the entire project: to work productively and to live happily.
"We do not delay making management decisions and have no restrictions in the provision of any services for residents. At the Dobrograd-1 site, all conditions have been created for the development of a modern business community. A cluster system for production organization and effective partnership to achieve maximum results – these are the priorities when choosing investment projects", Oleg Fomin shared.
The opportunity to go forward with like-minded people, to work effectively in environmentally friendly production facilities, to create new jobs and gain unique experience in international cooperation, while being close to your family every day, watching your children grow - these are the main concerns of investor relocation, which have already been resolved in Dobrograd!
Subscribe to updates
Receive weekly updates on the latest developments in the Special Economic Zone.